In the last two weeks I have been battered by nasty cold. Then I realized my birthday just passed with pile of acetaminophen and paracetamol, I did not regret it. I need a rest, a very good rest. In the middle of snotty nose and feverish state, somehow I asked my self why God created virus to human. Homo Sapiens need to be tested. If you pass, its body learn to cope, creating system to protect from similar illness. Well, nature selection is about adjusting into environment.
When I am feeling little better, I'd like to pamper myself. I choose to make very own birthday cake. Rambling around I found
video from Tyler Florence
. It's carrot cake with cream cheese frosting on top, which match with our purposes to reduce sugar contents. Carrot cake is always our preference, while the Cointreau syrup enrich overall orange taste.
Pineapple always being my childhood memory. My grandmother used to sell beansprouts in local market every morning. When I visited her during school holiday, she asked me what I like to eat when she back from market. Well, I can asked anything, but always pineapple. Most of her grandchildren asked pocket money, while I was happy with these fruit, available cheaply in the market in Java. In US pineapple become such a delicate and exotic option. It's sourness with lots of juice make it good combination on the cake.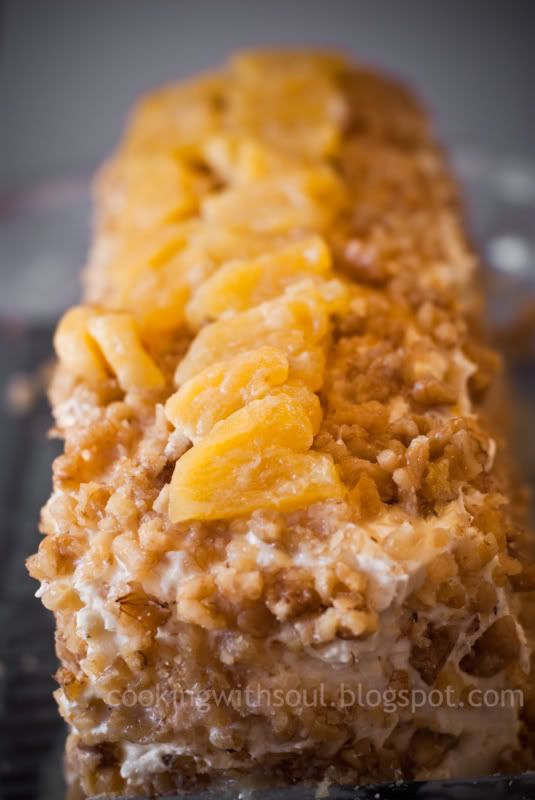 "BIRTHDAY" CARROT CAKE WITH CREAM CHEESE FROS...
Tyler Florence
Yield: 1 large cake, serves 8-10
Time: 1 hour 45 minutes
Ingredients
1 1/2 cups finely minced carrots (looking at the video seemed like Tyler added extra cup, I suggest make it 2-2.5 cups)
1/2 cup crushed pineapple, drained
3/4 cup finely chopped walnuts
2 1/2 cups, all-purpose flour, plus extra for pan
1 teaspoon baking powder
1 teaspoon baking soda
1/4 teaspoon ground allspice
1/2 teaspoon ground cinnamon
1/4 teaspoon freshly ground nutmeg
a pinch of kosher salt
1 cup buttermilk
1/4 cup molasses (I uses dark molasses, so reduce into 30-50% than on the recipe)
4 large eggs
3/4 cup vegetable oil
1 1/2 cups dark brown sugar
Direction
Preheat oven to 375 degrees F. Butter a jelly roll pan and line with parchment. Set aside.
Take the carrots and chop into large pieces then mince in a food processor until you have a fine texture.
Drain pineapple and finely chop walnuts. Set aside.
In a large mixing bowl add flour, salt, baking soda, baking powder and spices together.
In a separate bowl ( I am using standing mixer) mix buttermilk with eggs, vegetable oil, molasses. Pour dark brown sugar bit by bit until the batter looked spongy and corporate together about another 3-4 minutes.
Now pour dry ingredients together to make a batter for 5 minutes with medium speed. Then fold in the carrots, pineapple and walnuts.
Pour into the prepared pan and bake in the oven for 25-30 minutes until cake is set and springs back when gently pressed in the middle.
Remove the pan from the oven and allow cake to cool on a rack while you prepare the frosting and cointreau carrots (recipes below). Once the cake has cooled, cut into three rectangles by cutting the cake lengthwise twice.
Stack the cake up into three tiers with cream cheese frosting in between each layer. Frost the outside of the entire finished cake - smoothing off the edges and corners (an offset spatula works well). Smudge walnuts on every side of cheese cream fros. Top with Cointreau pineapple rounds and drizzle a little of the syrup on top as well.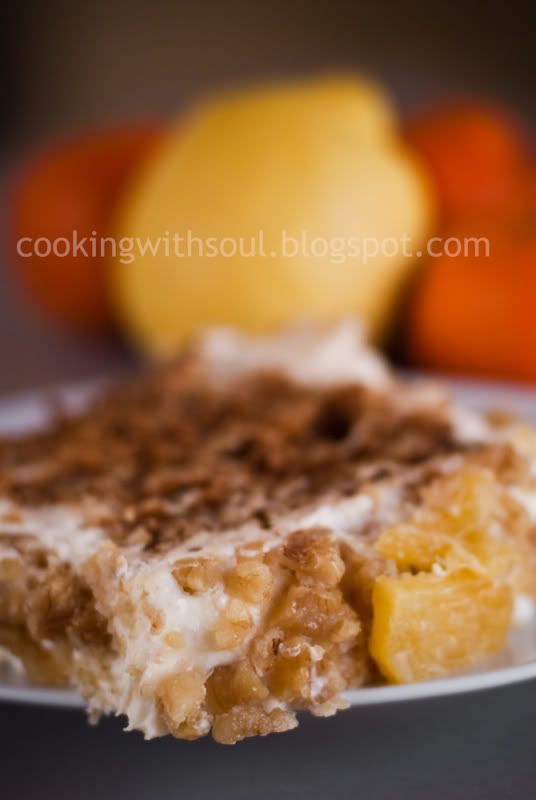 CREAM CHEESE FROSTING:
Ingredients
2 lbs cream cheese, room temperature for 3-4 hours
2 sticks of unsalted butter, room temperature
1 teaspoon vanilla extract
1 teaspoon lemon zest
2 cups powdered sugar
Direction
Using a kitchen mixer, combine cream cheese and butter until blended and you have a smooth, light texture. Note : cut butter into small cubes and add it bit by bit on the cream cheese, otherwise you will end up with lump of butter on the bottom of the mixer bowl.
Add the vanilla, lemon zest and powdered sugar and beat until combined. Continue to beat until smooth and glossy - about 7 minutes.
COINTREAU PINEAPPLE:
Ingredients
1 cup pineapple, cut in size
1/2 stick unsalted butter
2 tablespoons sugar
1/4 cup
Cointreau (or 50ml from small bottle)
pinch of salt
Direction
Add carrot, butter, sugar, cointreau and salt to a small saucepan over medium heat. Bring to a simmer and reduce until syrupy - about 5 minutes.
This is the video version :
Birthday Celebration
: "Make a wish over this decadent carrot cake topped with Cointreau Carrots."