After pop in at
Full Circle Farm
-an organic community garden in Sunnyvale, I bought three large eggplant. We've been talking about making Lamb Moussaka as a memento many years ago. I never been in Greek, but Mr C did. He said, missed Greek food so much.
Moussaka traditionally cooked with minced lamb. If you got nice shoulder lamb, that should be fine. We bought from
Whole Foods
which came with staggering price. It's really nice meat, as my farmer's boy said (yes..Mr C grow up in Wales and milking cow before going to school). A good lamb minced should be reddish, with good fat quantity and not having strong smell goaty.
This recipe adapted from
Greek Food About.com
and also from
Times Online.
We replaced
all spices
with
garam masala
. Also added more herbs such fresh rosemary and purple basil. I got good yield of yellow tomatoes which is really sweet and juicy. No sour at all. We cut eggplants without the skin off as Mr C love the textur. We fried with olive and vegetable oil. It will dry quickly as eggplant absorb olive oil, all you do just a tablespoon for each batch.
The best cheese to Moussaka is permesan type which is hardy and not really oily. It also hold the shape very well. In the end Moussaka is just like lassagna but much more fragrances with depth of herbs and spices.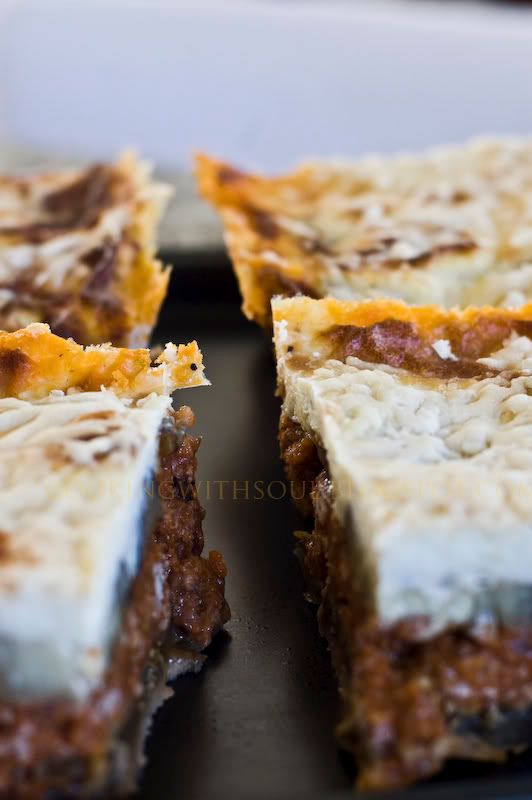 Preparation 30 minutes
Cooking 45 minutes
Serving 6 generous size
Ingredients
3 large eggplants
sea salt
olive oil
2 medium onions, chopped (we've used 3 little red onions)
2 cloves of garlic, minced
1.5 pounds of ground lamb
8 medium fresh (yellow) tomatoes, peel the skin and cut in cubes
1 small can tomatoes paste
4 whole cloves
1/2 teaspoon of ground cinnamon and 1 stick (break off around 1 inch long)
1/8 teaspoon of ground garam masala (or all spices)
ground ginger
3 bay leaves
sprig of fresh rosemary, few leaves fresh purple basil chopped
100 gr grated permesan type cheese (parmigiano reggiano)
1 cup of breadcrumbs
1/2 cup of dry red wine (options)
freshly ground pepper
Ingredients Béchamel
5 tablespoons of all-purpose flour
4 tablespoons of unsalted butter (1/2 stick)
2.5 cups hot whole milk (mixed with cream put in microwave about 5 minutes until hot but not boiling)
100 gr permesan chese grated
1/2 cup cream
salt
pepper
grated nutmeg
2 egg yolks
1. Preparing eggplants.
Wash the eggplants and trim off stems. cut the eggplant lengthwise into 1/2-inch slices. Put the slices in a large bowl or on a tray, sprinkle liberally with salt and let them sit for 30 minutes. Rinse well, drain, and pat dry. Brush slices lightly on both sides with olive oil and dry fry on the pan until little bit brown and soft. Set aside. Added salted into eggplant is to reduce bitterness and absorb natural liquids.
2. Prepare Meat Sauce
Preheat the frying pan or skillet over low heat. When the pan is hot, add 2 tablespoons of oil and increase the heat to medium low. Sauté the onions with a wooden spoon until they are translucent, add the meat and continue to sauté until lightly browned. Add chopped tomatoes, 1/2 the breadcrumbs, salt, pepper, garlic, cinnamon, bay leaves, garam masala, wine, and tomato paste and mix well. Reduce heat, cover, and simmer until all the liquid has been absorbed, about 45 minutes to an hour. If there is still liquid in the pan, continue to simmer uncovered until the mixture is as dry as possible. When dry, remove the bay leaves and cinnamon stick (if used), and set aside uncovered until ready to use.
Note
: we used quick dry methods which put the meat and saute on high stove. About 10 minutes until most of liquid dried up. This is significant as more liquid tend to not hold the shape very well when bake moussaka.
3. Make 3 cups of basic béchamel
It's made with evaporated milk and contains cheese, and is just one variation of this popular sauce used with meats and vegetables. It isn't hard to make, and doesn't take long, but it has to be stirred the entire time.
Preparation:
In a saucepan, melt the butter on low heat. As soon as it melts, add the flour and stir with a wooden spoon until there are no lumps, and increase the heat to medium-low. Add the milk slowly, stirring constantly with a whisk, and continue stirring until the sauce begins to thicken - creamy without being too thick. Remove from the heat and stir in salt, pepper, and nutmeg. Stir in the egg yolks and return to the heat, whisking briskly until well blended. Remove from heat and set aside until ready to use.
4. Add Bechamel Sauce & Cheese Topping
Lightly oil the baking pan and sprinkle the bottom with the remaining breadcrumbs. Place a layer of eggplant slices on the breadcrumbs and spread the meat mixture evenly on top. Cover with the remaining eggplant slices, and carefully pour the béchamel sauce evenly over the top.
Bake at 350°F (180°C) for 30 minutes, then sprinkle the cheese over the top, and continue to cook for another 15 to 30 minutes, until golden brown.
5. Serving Mousakka
Remove the moussaka from the oven and allow to cool for 20-30 minutes. Moussaka is eaten warm, not hot, and can also be eaten cool.
Notes:
Moussaka can be prepared up to the béchamel and refrigerated overnight. The next day, add the sauce and cook.
It can also be completely cooked and cooled, then frozen. Defrost and and reheat in a 350° (175-180°C) oven.

Serving suggestions:
Moussaka is traditionally served in very large pieces and it is a heavy dish. Serve with a green salad, crusty bread, and a dry red wine. If anyone has room for dessert, a fruit sorbet or cheese with fruit is a light way to end on a sweet note.