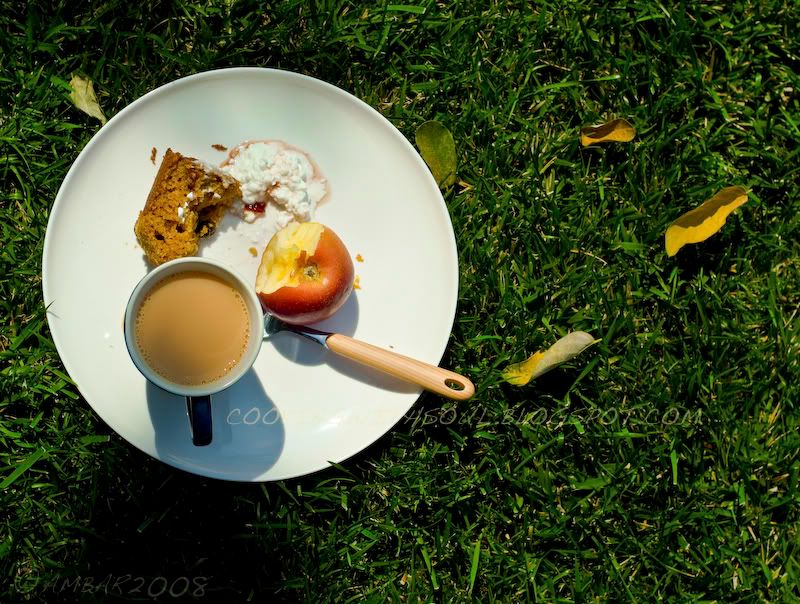 After few days off from baking, Mr. C asked his favourite treasure, the carrot cake. I'm never made such a delicious one. I recalled the best carrot cake we had since living in Silicon Valley was in small café in Woodside. We enjoyed it with a cup of coffee after long walk on top of the hill at Los Trancos.
I flipped many recipes, then down to
Nick Malgieri.
The recipe was somewhat I called traditional, using real ingredients but keeps serving below 3000 calories. We do concern about bulking our belly. Indeed, I have been baking every week or so.
It turned out that recipe was not so easy. I have been predicted that situation, specially Nick did not mention about how long to whisk and the consistency we've need to achieved. Also I am bit playing with raisin. I've got two types raisin : golden and dark mixed together with something weird called
Goji Berries

.
Goji berries or wolfberries grow in Himalayan, which believed to have extraordinary benefit. Well, I am not too convinced but I discovered Goji Berries sold in small package. Yes to feed my curiosity I bought it and pour into this carrot cake.
Applesauce may be the most expensive here. That's because I mistakenly bought a bag of organic
Fuji Apple
in
Whole Foods
. A small whole bag for 16 bucks !
Even though on the recipe said to use
McIntosh Apple
(indeed it's not the
Apple Computer
but yes the name based on real apple), I found Fuji Apple really nice, a truly American's treat. We did not get these type apples in UK. It's crunchy when eaten raw, surprisingly sweet and smooth when it sautéed. The result was excellent. My carrot cake has lovely textures, fragrance with spices and slightly appley taste. Grated carrot just added the colour and blend nicely with the golden raisin I put in.

OLD FASHIONED CARROT CAKE
Makes one 10-inch tube or Bundt cake
About 16 servings
Adapted from
Perfect Light Desert by Nick Malgieri & David Joachim


Ingredients:
Cake Batter:
2 ½ cups all purpose flour (spoon flour into dry-measure cup and level off)
2 teaspoons baking powder
1 teaspoons baking soda
2 teaspoons ground cinnamon
½ teaspoon freshly grated nutmeg
½ teaspoon salt
3 large eggs
2 large egg whites
¾ cup granulated sugar
1 cup dark brown sugar, firmly packed
1 cup unsweetened applesauce *
1/2 cups vegetable oil, such as corn or canola
2 teaspoon vanilla extract
1 tablespoon finally grated orange zest
3 cups peeled and finely grated carrots, (about 4 large carrots)
1 cup raisins + 2 teaspoons Dry Goji Berries (moisted with hot water for 2-3 minutes)
*Applesauce (for making about 2 ½ cup)
1 ½ pounds Fuji apples (about 5 medium size), peeled, halved, cored and sliced
1/3 cup water
Making the applesauce :
Place in medium saucepan with water and cook over medium heat until the mixture comes to a boil. Lower the heat and allow the apples to simmer in their own juice for about 20 minutes, stirring occasionally and watching that the apples don't scorch. If the apple become very dry before they have disintegrated, add 2-3 tablespoon water and continue cooking until the apples turn into a chunky puree. Use a whisk or potato masher to break-up any large chunks.
Making the cake :
1. Set the racks in middle of the oven and preheat to 350F degrees.
2. Stir the flour together with baking powder, baking soda, and spices and salt. Sift once onto a piece of wax paper.
3. In a large mixing bowl whisk the eggs and egg whites to break them-up about 2-3 minutes (or use hand mixer with low speed). Whisk in the granulated sugar and brown sugar (until slightly foamy in hand speed for about 3-4 minutes). Whisk in the applesauce and oil (slowly with folding the batter), then the orange zest and vanilla. You will achieve dark chocolaty batter with runny consistency.
4. Use a large rubber spatula to fold in the carrots and raisins.
5. Fold in the flour mixture, being careful not to over mix. The batter will looked like between stick in the spatula and runny. Test it with drop a little dollop. It should be looked like rich batter.
6. Scrape the batter into the prepared pa and smooth the top.
7. Bake the cake for about an hour (60 minutes), or until it is well risen and firm, and a toothpick inserted halfway between yhe side of the pan and the carrot tube emerges clean.
8. Cool the cake in the pan on a rack for 5 minutes, then un-mold it to a rack to cool completely.
Serving
: to add a little richness to this, spread a slice with some reduced fat cream cheese, rather than slathering the entire cake with a very caloric cream cheese icing.
Storage
: Keep under a dome at room temperature on the day it's baked. Wrap leftovers in the plastic. For advance preparation, double wrap the cake in plastic and freeze for up to a month. Bring to room temperature before serving.
Calorie contains per serving :
290 calories
8 gr total fat (25% of calories)
1 gr saturated fat
5 gr protein
50 gr carbohydrate
2 g fiber
40 mg cholesterol
244 mg sodium